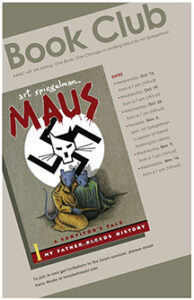 This fall, the Academy Book Club will be joining One Book, One Chicago in  reading Art Spiegelman's MAUS, a graphic novel based on the persecution of the Jewish community in Europe under the Nazi regime in Germany. This book deals with real history through the powerful visual medium of the Graphic Novel. So powerful, in fact, that it was (controversially) banned from many American schools last year.
MAUS
by Art Spiegelman
Meetings will be held via Zoom on October 12, 19, and 26 and on November 9 and 16th from 6pm – 7pm . Then, on Thursday Nov 3rd, we will have the opportunity to attend author and illustrator Art Spiegelman's lecture at the Harold Washington Library.
Fill out the form below to register for the discussions and to receive invitations to our Zoom meetings. All book club members must provide their own copy of MAUS, which can be purchased or checked out from a local library. There will also be a limited number of copies available in the Academy library.
Loading…