Recently the luxury fashion house Hermès made a stop in Chicago to present their Hermès in the Making workshop at Union Station. The event lasted from Friday October 27 – Wednesday November 1 and attracted an audience of thousands. The workshop tours all over the world and stopped in Chicago once before in 2013. Academy Senior Carmel Ada was hired to be part of the team of artisans that worked live to demonstrate the craftsmanship that goes into all of Hermès' handcrafted goods.
We talked with Carmel about her experience and here's what she had to say:
What is Hermès in the Making and how did you get involved?
Hermès in the Making is a 6-day public event featuring craftspeople and artisans from France that showcase live demonstrations, workshops, interactive activities, and films spread throughout the Grand Hall in Chicago Union Station. From October 27 to November 1st, guests were able to experience a sneak peek into the techniques used to craft Hermès objects that are designed to last and be repaired. 
The first that I heard of the event and the opportunity was mid September from our career services coordinator Ashley Biggs and my portfolio teacher Jessica Mueller, who strongly encouraged me to apply and send in my resume. From that point on, I was notified a month before the start of the event that SV productions would have me on their team as a Silk Screening Artist performing an interactive screen print activation for guests.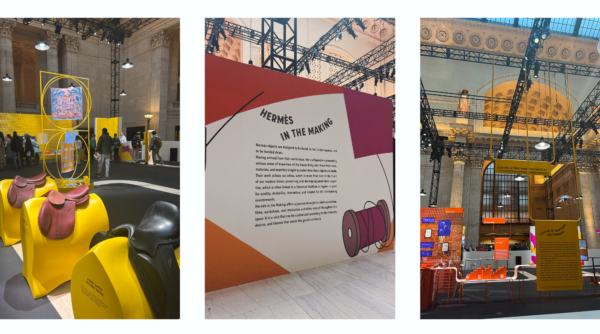 What was the training process like?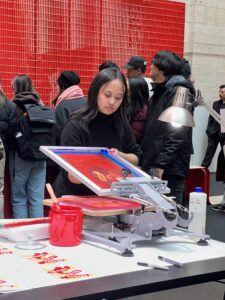 Training occurred the day before the event was open to the VIP and public, that evening me and my screen print partner, Brian Herrera were introduced to the team at SV productions and a few at the Hermès team that were helping us set up our stations. That evening we were shown what materials we were to work with  (a silk screen press, 8 screens, red water based ink, solvent, squeegees, and more–all brought over from France) and instructed on our role for this event. During training, we were tasked with making test prints, making sure everything ran smoothly for the days to come. 
As this was the first time they were adding this screen print activation in the US, Arielle and Jessica (SV Productions) gave us context for the purpose of our interactive activation. On the other end of the exhibit, there was a live demonstration of the silk screen printing process of the Hermès silk scarf. After guests had the opportunity to watch the demonstration, they are able to create their own personal prints, applying the same techniques and methods used for the silk scarf. Our silk screen activation gives the guests context and a chance for them to create something of their own they are able to take with them after they are done with the activation. 
What was a typical day of the event like?
For the VIP event night there were two main groups of about 200 guests that were invited to the opening of the new Hermès store in Chicago and then came to Union Station for Hermès in the Making to see how the products were made and crafted. For this night, we would be taking to the Hermès clientele and get a feel for how the rest of the days would follow. During this exclusive night, there was special catering and a 6th generation Hermès family member was in attendance. 
As for the rest of the days, the event was free admission to the public and ran from 10 AM to 6PM. I would get to the station around 9:30 by Metra Train, clean and set up my screen printing station, make sure I had enough paper, ink, and screens, and start by making a couple test prints before the space opened. Throughout the day, there would be a consistent flow of foot traffic making its way through the exhibition. I would help out those who would want to make their own screen print or those who were interested in seeing the process of how it works. During these 8 hour days, I would have a chance to talk to a wide variety of people – SV productions team, the artisans, my screen print partner, the guests at the event, and even other students like me!
Towards the end of the day, around 5:45 we would start cleaning up our stations– making sure that our screens and squeegees were clean, refilling our ink pots, and helping each other out so that we were set up for the next day.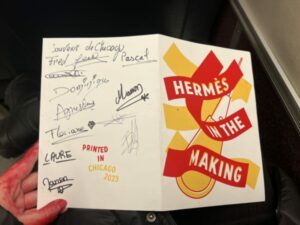 What was your favorite part of the experience?
My favorite part of the experience was actually learning about all the moving parts that go into a big production like Hermès in the Making. Not only do you have your artisans and craftsman working hard, but there are also various teams such as the French translators, the security, the cleaning crew, Brand ambassadors, prop designers, as well as the management from SV productions that all work together to make sure that a large scale event like this runs smoothly. It was very reassuring to know that all these people were there to help and support me behind the scenes for whatever I needed. The brand ambassadors would work in tandem with Brian and I to make sure the flow of the screen print activation ran smoothly and helped us explain the process to our guests. 
Another favorite moment of mine was meeting and getting to watch the master printer of the Hermès scarves. I do not speak a word of French and he did not speak any English, but his passion and professionalism was crystal clear when it came to silk screen printing on the scarves. The whole technique is so involved and calibrated. I was even able to get an autograph and a picture with him!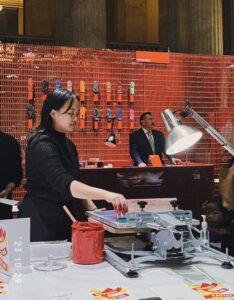 What did you learn that you plan to use in your own future projects?
After doing screen print upon screen print everyday in this event, I definitely want to incorporate more of this technique in my own work! There is such a vibrancy and uniqueness that silk screening offers and I hope to translate that into future projects that I do. The thing I enjoy most is that you are able to make multiple prints of the same design but still keep the integrity of the original. 
Another thing is set and environment design. Currently I am also in an environmental design class where we are tasked to create and design our own exhibition. Looking at how Hermès in the Making has utilized their space, used color motifs and graphic elements, and how they set up each installation tailored specifically to each artisan really gave me great inspiration for how I would like to approach my own environment design. 
Did anything inspire you? If so, what?
I grew a lot of admiration for the team of Hermès artisans and craftsmen. As an aspiring artist that's still in school, it was neat to catch a glimpse of different practices and "métiers", trades/occupations, and how dedicated each person was to their craft. It really inspired me to strive to be better at my craft so that I can attain that level of professionalism and confidence in my work. It's not just the set of tools and materials that make the artisan great, but also the work ethic and respect for the process that contributes a great deal to the craftsmanship.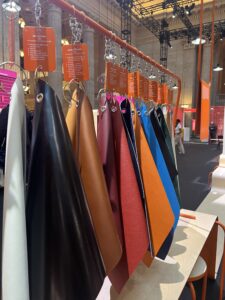 What is special about Hermès?
In a culture where fast fashion and trends have become increasingly relevant to the average consumer, I believe that Hermès lives up to its ethos of sustainability, preservation, and respect for its products. Hermès has handed down six generations' worth of artisanal skills and techniques, uses high quality products from trusted suppliers, creating objects that are meant to last. There are no shortcuts – years of training are required to master the manual skills of each trade which is why Hermès stands out.
If given the opportunity, would you do this again?
100%!!! This event was very much out of my comfort zone, but I feel like it taught me to be adaptable to any situation that can happen, it helped me reach out and network with other artists and guests at the event, and it also reinforced my appreciation for tactile and traditional art mediums. It was also very reassuring and comforting to see friends, family, and instructors from the Academy root for me and come out to support. If I had to do it over again, I think the only thing I would do differently is brush up on my French 🙂
We are so proud of Carmel for being able to join in on such an incredibly unique experience!