Featured Artwork: Iron Galaxy Studios: Extinction
Many Academy students have hopes of pursuing a career in video game design. Academy Alumni Everardo Acosta took advantage of every career opportunity that came his way. Without realizing it, he built a set of in-demand skills that would prepare him for success in the video game industry.
When Everardo started at the Academy in the mid-90s, he aimed to study illustration. He'd always loved painting, drawing, and creating mixed media pieces. A career in illustration seemed like the best fit for his interests and his dream of working on films in Hollywood. While studying at the Academy he was able to take a class in Desktop Publishing just as digital media was starting to take off.
After earning his Bachelor of Fine Arts Degree from the Academy, Everardo worked at several companies offering on-the-job training and unexpected new skill sets that would prove helpful in his video game career. Over the course of a few years, his responsibilities included everything from digitizing old graphics using Photoshop to creating 3D designs of shipping ports, and finally taking on his first video game-related job as an Environment Artist with Midway Games.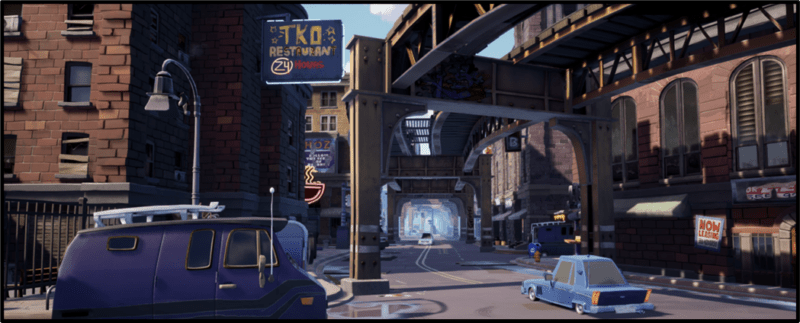 While at Midway, he had the opportunity to take a job in California with a different video game company, which allowed him to experience different styles of operation within the same industry. A year later, he returned to Chicago to pursue a leadership role with Midway Games, which eventually split into three separate companies, including Iron Galaxy. Everardo has been with Iron Galaxy since 2011 and has seen the company grow from about 30 employees to over 200. He now works as an Environment Lead, combining Art Lead and Art Director skills.
During his presentation, Everardo emphasized the importance of community. Most of his jobs were introduced to him by co-workers and alumni of the Academy. The wide variety of new skills he acquired from each of his jobs proved to be valuable when moving from one to the next and eventually landing in the world of video games.

Flexibility along with continuously refining his craft, whether at work or at home, has been Everardo's key to success. A piece of advice he offered students was to always be flexible in their career pursuits.
"Allowing myself to try different paths and different roads got me to where I am today. With each job, no matter what it was, I was always trying to find a way to implement what I'd learned."
After years of working in video games, Everardo found himself with a "creative itch" to do more traditional work and began to do sculptures in his personal time, purely for the love of creating. He now has visions of himself hammering away at stone from a scaffold. Which leads one to wonder what might come next for him.