This Spring, the Academy's Graphic Design Department took a weekend trip to St. Louis, Missouri. The group enjoyed 3 days filled with art, laughs, adventures, and discovered a newfound love for the city of St. Louis and traveling by train. After a 5-hour Amtrak ride from Chicago's Union Station, students and faculty members visited the famous St. Louis Arch, took a boat tour on the Mississippi River, stayed at Angad Arts Hotel, visited the Contemporary Arts Museum St. Louis (the CAM) and the Pulitzer Arts Foundation, and enjoyed lots of wonderful food.
The goal of the trip is to provide students with an opportunity to experience inspiration and connection with their peers outside of the classroom. Through curated tours of galleries, they learned about the process of selecting artwork for viewing and how their individuality and unique perspective is what makes their own artwork powerful. A major highlight of the trip was a visit to local non-profit
Central Print
where students toured St. Louis's historic letterpress equipment and attended a rich and inspiring letterpress and bookbinding workshop with longtime Printmaker and Founder, Marie Oberkirsch.
The grand finale of the trip was a visit to the
City Museum
, housed in an old shoe factory in Downtown St. Louis. City Museum is an ever-evolving, artist-built playground made of reclaimed pieces of the city.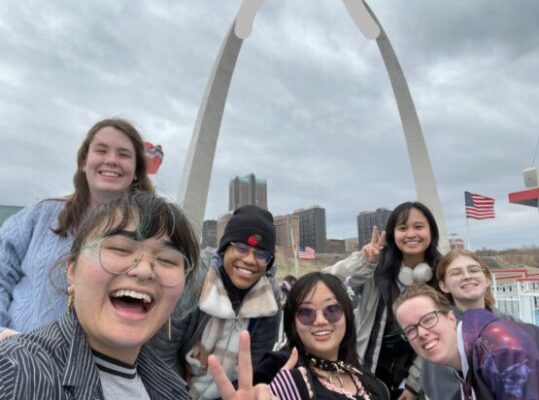 All of this was made possible through student led organizing and fundraising; bake sales, sales of merchandise designed and screen printed by students in the design program, head shots taken by photography students Miranda Cammelot and Michael Harris, and the support of the Academy. Every student who attended the trip helped to fund raise. Design students Chey Linder and Tori Garcia played a huge role in organizing the sales and helping to plan the weekend's itinerary. This community effort drastically reduced the cost for students to attend the trip.
We'd also like to give a special thank you to Academy faculty members Jessica Mueller and Misha Goro for chaperoning the trip and sharing their stories and photos.