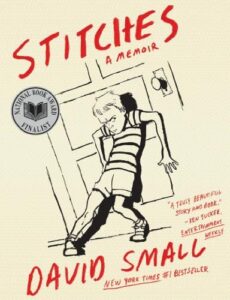 This February, the American Academy of Art College Book Club will be diving into the graphic novel Stitches: A Memoir by David Small. This groundbreaking graphic novel tells the story of a fourteen-year-old boy who awakens one day from a supposedly harmless operation to discover his vocal cord has been removed. Small proceeds to graphically portray an almost unbelievable descent into adolescent hell and the difficult road to physical, emotional, and artistic recovery.
Meetings will be held via Zoom on Wednesdays February 1, 8, and 15 at 6 PM CST. Book Club members will be expected to get their own copy of Stitches. There will be a limited number of copies available in our library. You can also check it out from the Chicago Public Library, your local library, or buy from a local bookstore.
Register below to join and receive invitations to the Zoom meetings.
Loading…