Recently, faculty member Mat Barber Kennedy was profiled on Plein Air Painter Magazine's companion website, OutdoorPainter. At the Academy, students and faculty know Mr. Barber Kennedy as a watercolor and illustration instructor. But outside of the classroom, he has spent nearly 30 years focusing on paintings that give life to the buildings and architecture we interact with every day.
"I think the life of a city, of a culture, of a family, or a business, is revealed in the ways that our structures age. In some sense, I think my work is a kind of portraiture to reveal more than just the appearance of things, but revealing something of the life of things."
Mr. Barber Kennedy also adds character to his paintings by introducing non-water-soluble textural elements to "escape the flatness of the page." His goal is to show signs of wear and tear, evidence of life, and how we exist in these various architectural structures. The details can take long periods of time to dry, but they add a unique style that makes his paintings recognizably his.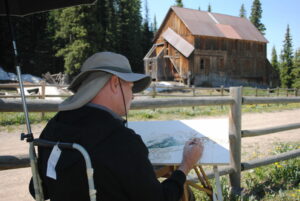 Read more about how Mat Barber Kennedy creates his Plein air paintings on OutdoorPainter.com. You can also view more of his artwork on his website.
Featured Image: Mat Barber Kennedy, "Fleet Street, Annapolis," 2018, watercolor, 12 x 30 in., Private collection, Plein air