Portfolio Night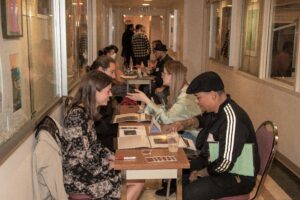 This fall, the Academy held its annual Portfolio Night. The event is an opportunity for alumni and industry professionals to review portfolios of recent graduates in Illustration, Fine Art, Graphic Design, Photography, and 3-D modeling and Animation. Potential employers can scout the talent of up-and-coming artists. Graduates from 2020 through 2022 displayed their portfolios throughout the school and were eager to discuss their art and listen to advice from reviewers.
The event serves as a networking opportunity and a chance for alumni to reconnect with the Academy, their instructors, and former classmates. Career Services Coordinator Lindsay Sandbothe organizes the event, complete with impressive raffle prize baskets. The energy this year felt warm and cheerful, filled with attendees who were excited to socialize with fellow artists and members of the Academy community. We wish all of our recent graduates the best of luck on their career paths and look forward to hosting the next Portfolio Night event.

Students Visit Heritage Auction House
In October, faculty members Don Yang, Rich Kryczka, Chris Cosnowski, alumni and substitute instructor Samantha DeCarlo, and Career Services Coordinator Lindsay Sandbothe, along with about 30 current Academy students from the Illustration and Oil Painting programs attended the viewing of Golden Age illustration work on the auction block at Heritage Auctions. Several academy alumni are currently employed at Heritage, including, Andrii Podufalyy, Paniota Tsipas, and Elizabeth Ptack.
 Vice President and Director of American Art, Aviva Lehmann discussed each piece on display, which was only a portion of the American Art Collection, including Norman Rockwell, J C Leyendecker, and alumni, Haddon Sundblom.
Alumni Drawing Marathon
Academy faculty member Don Yang hosted a drawing marathon for alumni. The event lasted for 8 hours and attendees had the opportunity to draw from three different life models. This year we caught up with Dan Danielson, who attended the Academy from 1967 to 1970 and regularly attends the drawing marathon events. Dan said the focus on fundamentals that eventually led to his career in commercial art is what made the Academy stand out from other art programs in Chicago. After working in art and creative direction for 40 years, Dan retired and now teaches watercolor painting at the Dupage Art League.
Dan's work can be found on his website.
Halloween
This year's Halloween festivities were a huge success with students, faculty, and staff. During the week prior, students had the opportunity to win prizes, have caricatures drawn by Academy Alum Alain Parma, and purchase tasty Halloween-inspired treats from the bake sale hosted by students in the Graphic Design program. 
Halloween began with judging the annual Door Decorating Contest. The library took the top prize for its unique illustration design by current Academy student Brooklyn Osborne. Second place went to room 307 for their spooky twist on Mariah Carey's song "All I Want for Christmas Is You". Costumed students then paraded through the school, around the block, and ended in the gallery with a runway-style costume contest. Top prizes were awarded for Most Original, Funniest, Cutest, Scariest (which Marley Feldman won for the third time), and Best Makeup.
The rest of the day was spent feasting on an impressive candy buffet, having professional portraits taken by faculty member Bob Drea, competing in ping pong and a Haunted House Cookie Decorating Contest, and watching the original House on Haunted Hill. 
The Halloween Committee, made up of staff, faculty, and students, set a high bar this year and many of us are already excited for what next year's festivities will bring.