When American Academy Alum Nicole Shepherd completed her BFA in Illustration, she wasn't sure which area of the field she wanted to enter professionally. She loved illustration and being in an academic setting. When she came across the medical illustration field, she knew it would be a good fit for both her skills and her academic interests.
A career in medical illustration requires a Master's degree in Science and Biomedical Illustration. Nicole attended the University of Illinois Chicago, where Academy faculty member Kristin Mount earned her Master of Associated Medical Sciences degree. While at UIC, Nicole developed skills in 3D modeling and virtual reality and had the opportunity to work on anatomy cadavers alongside medical students. Coding is another necessary skill in the field, which Nicole and others in her program began learning through an interactive game design class.
"I never imagined working with code or 3D VR, but now that's what I do for a living!"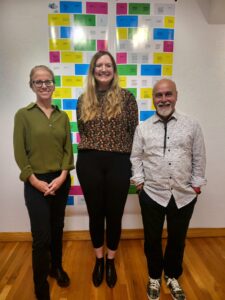 While in her Master's program, Nicole developed a medical graphic that illustrated what shingles would look like on the skin of a person of color. Most medical images show skin disorders on white skin. This project earned her a Merit Award at the Association of Medical Illustrators Salon. Under the research advisement of Kristin Mount, Nicole also completed her graduate thesis, an Interactive Neuroanatomy Application Depicting the Internal Anatomy of the Brainstem, with the hope of creating an "interactive learning tool that will serve as a supplemental study aid for graduate neuroanatomy students." 
Nicole's first job after earning her Master's was a 2-month contract with the NYU College of Dentistry where she optimized 3D models. Shortly after, she took a full-time organic artist position with Osso VR, a company she'd been hoping to work for since grad school. Osso is fully remote and Nicole is able to collaborate with her team virtually. She loves being part of a job and a community that helps people and credits the Academy with giving her a strong foundation in illustration and problem-solving skills.
A bit of advice from Nicole? If you are interested in pursuing Medical Illustration, make plans as early as possible and take all of the science courses you can. A love of research is also a benefit, given that a large portion of time is dedicated to in-depth research of scientific papers. There is a high demand for workers in medical illustration, with only about 2,000 people working in the field worldwide. After graduating, Nicole and her classmates had corporations reaching out to them about job opportunities. 
For now, Nicole loves her work-from-home job with Osso and, after a much-needed break, plans to continue work on her graduate thesis project.
To learn more about Nicole and to view her portfolio of work, visit her website.